Friends of TagYerit
Other interesting music sites and more. A list of links I hope you'll find entertaining and useful.
and the categories are ...
Search Tips
Looking for specific keywords on this page? Try hitting the CTRL + F keys on your keyboard, and filling in your topic…
BANDS:
Ed Vadas and the Fabulous Heavyweights - East Coast blues
Max Cohen - Extraordinary fingerstyle guitar
Tom McClung - an outstanding jazz pianist in Paris. (formerly from our neighborhood)
Michael Bluestein - Currently the keyboard player for Foreigner. He's an accomplished jazz and rock keyboard player, singer and composer.
Julia Burrough - "Brighter Road" Inspirational and soulful. - music on the road to recovery
Flush2 - French pop-rap duo featuring Hush Hush and Ton Flew
The Shredmistress - Guitar music - hot & heavy with Shredmistress Rynata. (warning - this is an extremely slow loading site.
Marty Walsh - guitarist from Supertramp, and songwriter. By all rights I shouldn't put his link here, since he's not into link swapping (although he may give us a link to our Toilet Paper museum). So if you do go to his site, tell him Rich at TagYerit sent you and maybe he'll get the idea... But I've met him and liked him so here's his link anyway
MUSIC MAILING LISTS

Indiegrrl: This was a very effective group when it was created in 1998. Doesn't look like much is going on there now, but leaving it so researchers can still find it.
JPFolks.com A moderated newsletter. Lots of good people with good music.
MORE MUSIC SITES:
Songwitch - an experiment in lyric search for independently released songs by the friendly folks of TagYerit
The Getting Up Anthem About the theme song for Atari & Marc Ecko's video game, "Getting Up Contents Under Pressure featuring TagYerit, Rakim & Talib Kweli.
Artist Direct - music links, news & reviews
Artist Pr: www.artistpr.com is the #1 Music Promotion site for unsigned Bands and Artists
The Audio Production Suite - ampthetex.co.uk - the audio production suite, covering all areas from music production, audio technology, sound engineering, courses, and more.
Concert Tickets : Premium tickets for concert, theater, and sports events nationwide. Buy concert tickets online 24/7
Hip Online The premier entertainment site for interviews, reviews and much more
Kind WebMusic Links, Resources, News, Events, Activism and more
Midnight Rain Productions Music Promotion News, Reviews, and Opportunities on the Internet.
The Music Room - sheet music, books about music, tutor methods, and instructional videos and DVDs.
Northeast Digital Recording - A highly acclaimed mastering studio. TagYerit and friends use them, (also so does Bowie, and Rykodisc!)
Singer Song - Dedicated to linking unsigned and independent artists with the best singer and songwriter resources.
Songwriter's Collaboration Network Molly-Ann Leikin, Songwriting Consultant, has created this site, where singers looking for songs, publishers looking for hits, and songwriters looking for writing partners, find each other. and a one-month listing is free! I Also highly recommend Molly's bi-weekly column, Success Strategies for Songwriters.
SYNTHMUSEUM.COM - The largest online museum of vintage electronic musical instruments
RADIO and music samplers

Outlaw Radio Guy - DJs post playlists; artists find DJs; fans find stations - A forum for discussion and promotion of independent programming and music. Remember when radio was fun? Maybe even felt Dangerous?
Belgium - Planete Indie Since 1997, a leading European independent radio show, dedicated to airplay of independent music.
Barbara Newman - Lampwork beads, unique jewelry & Museum demonstrations -
Christin Couture - Christin painted the cover art for TagYerit's CDs "Heavy Construction" and "Tubeman".
Stephen H. Schmidt - Steve is an award winning nature photographer, who contributed photos on TagYerit's CDs.
Janet MacFadyen - Poetry
"My Wild Friends" Our good friend Blanche Cybele Derby explores and advises about finding free food from field and forests. And you thought they were weeds. I highly recommend the Dandelion Rhubarb bread if she ever reposts the recipe.
Marty Klein - Fine Art Scanography & Photography
Matthew Mattingly - A collection of wonderful paintings, drawings, and sketchs by Matt, as well as discussions, tricks and hacks for working out ratios and perspectives.
Shingle Art Gallery - featuring "The Giant at the Back Door" and many more wonderful shingling projects.
The Collector - a vignette © Richard Newman, 1997
Trash Gargoyle - TagYerit's CD cover also carved by Flo
Spaceman Our Flower
Sculptures © 1996 by Rich Newman
To contact us please type in the email address shown in this image.

My website moved and I haven't figured out how to get the forms working yet.
---
Return to TagYerit's main page.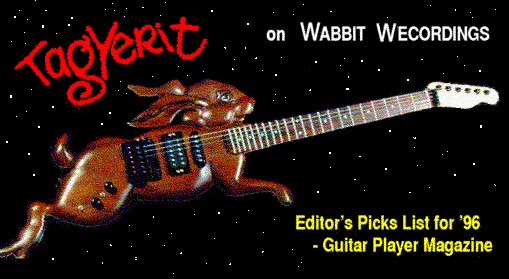 Click the Guitar to hear TagYerit's music.
Click here to fully explore the tagyerit.com pages
---
Whether you'd like to say hi; make a request or a suggestion; discuss the use of any of these images; swap links; we'd love to hear from you!
To contact us please type in the email address shown in this image.

My website moved and I haven't figured out how to get the forms working yet.
We never disseminate email information. We are ever mindful of the privacy needs of our friends.
All text and images ©1998 - 2022 R & F Newman TagYerit.com except where noted.