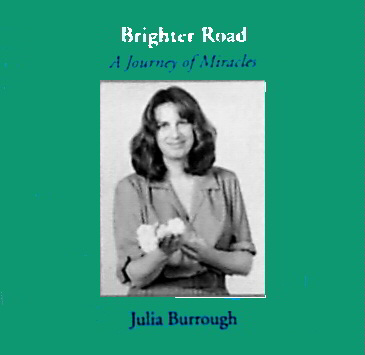 Brighter Road
A Journey of Miracles
Julia Burrough
All songs ©1992 Angel Cake Music 1992
"passionate soaring voice and poignant music" - David Sokol Music Editor of The Valley Advocate (Western Massachusetts)

"beautiful floating melodies...She sings about hope." - Springfield Union News, Springfield MA.

"Beautiful" - Steve Gustavson, 10,000 Maniacs

As well as the local shows, Julia has opened for 10,000 Maniacs, Ellen Mcllwaine, Aztec Two-Step,Joel Zoss, Cathy Winter, Betsy Rose and others
---
"It was 1988 and I had been led to a 12-step program. No longer kicking and screaming, the healing had begun. Though a songwriter for years, I felt lost. I couldn't imagine what would inspire me to want to write again. If it was a broken anything, I didn't want to fix it.
I began to feel inspired by what I was reading and hearing at meetings. I began to write songs about my own recovery that would be healing and affirmative...."
---
---
Brighter Road
Love Will Come Again (35 second downloadable .wav file)
Back On Track
Angry Bull (in RealAudio)
Oh, We Of Little Faith
Home For The Healing
Late Bloomers
Love Is The Bridge
Takin' Things As They Come
Caught In A Whirlwind
This Too Shall Pass
By And By
---
"Brighter Road" is available on CD for $15.00, tape for $10.00
"Demons & Dreams", and "Daylight" are available on tape for $10.00 each.

Please include $1.50 for postage
send check or money order to:


Julia Burrough / Angel Cake Music




P.O. Box 6




Greenfield, Ma. 01302
---
(editor's note) Of course I highly recommend her previous tapes "Demons & Dreams", and "Daylight"
Her Daylight album (1990) received 4.5 out of 5 star rating in the Valley Advocate's "Local Album Review" and was a listed as a top selling local album.
---
"Julia Burrough is unquestionably the most powerful solo performer that I have ever encountered. The emotional impact of her music, the erasing of any distance between herself and the audience...masterful control over intense poetic imagery make her appearances breathtaking. Her songs are well crafted gems ...playing with taste, sensitivity and at times great wit. You'll have to hear her because words can't tell any more." Jordi Herold, owner of the Iron Horse Music Hall, Northampton, MA 1980
---
AUDIO SAMPLES
Download "Love Will Come Again" in a 35 second .wav file
OR
Stream "Angry Bull" in RealAudio.
Back in 1996 Julia's CD was a Top Ten hit on Broadcast.com Jukebox (Not sure if it's still an active link) Top Ten Easy Listening playlist from May 1 through Oct 10, 1996.
---
I set this page up May 18,1996 to give the web a way to find Julia. It was actually one of my first web pages. While Julia still plays music, she hasn't been pushing it as a career path these last 5 years or so. (I'm writing this Feb., 2001). But her songs are as meaningful and beautiful today, as they were in 1992. You owe it to yourself to find out why. (Hey, and I make nothing from this pitch) Rich Newman, (bass player and songwriter) from
by the way...if you want to reach Julia and don't want to wait for the mail, you might try to email me - rich@ tagyerit.com and I will relay your message. Make sure you put "Julia" in the Subject
---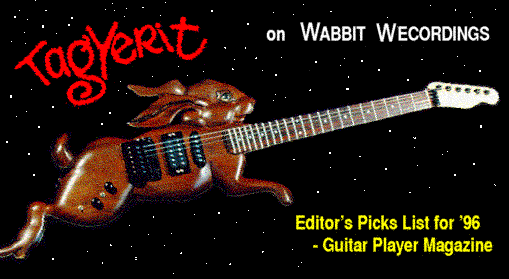 Push on the TagYerit Logo for more goodies from TagYerit, your musical host.
©1992 Julia Burrough
Website ©1996 - 2003 Julia Burrough