The Fabulous Heavyweights
featuring
Ed Vadas
At the current time, Ed Vadas and Sue Berkhart play monthly at the Luthier's Coop in Easthampton,MA. Please google the Luthier's Coop for their schedule.
Most of Ed's CDs are out of stock, except for his 2007 release Eatin Time available at CD Baby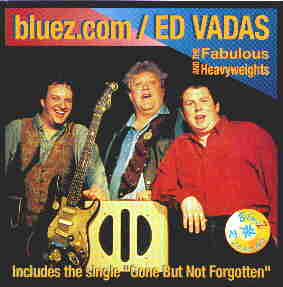 Putting On the Style
How Many More Years (C.Burnett)
She Started Talking Again
Gone But Not Forgotten
Waiting On Sunrise
No Good News
Mellow Down Easy (W.Dixon)
Drink Muddy Waters (Trad./ E. Vadas)
Blues Aint Nothing But A Botheration
I Didn't Know (C. Burnett)
Down Like That
Reconsider Baby (L. Fulson)
Old Timers Boogie
And She's Gone

All songs by Ed Vadas (ASCAP) except as noted.
As you will see from the reviews page, there are three things you need to know about the Fabulous Heavyweights.
The Fabulous Heavyweights put on a unique and powerful live blues show.
Their CD "South Side of Fifty" contains some great music
"bluez.com" ©1998 is Ed's most impressive work to date. Fronted by Ed Vadas on vocals, guitars, and harmonica, the current line-up includes Steve Toutant on bass and Fred Hazelton(*) on drums.

---

The Heavyweights perform about 200 gigs, travelling 40,000 miles a year.

"This super-exciting bluesman throws convention to the wind and shows us what original really means. He tore up the Dinosaur on his last bout, then shook up all the fans at the Bluesfest. You won't know how to act when this guy lets his highly creative side take over, He has been called the Dr. Frankenstein of the blues, after one set you'll see why!"
Dinosaur Bar - B - Que Bullsheet Syracuse, NY

---

"South Side of 50"

(Cranus records) All songs by Ed Vadas / ASCAP, except as noted

Empty Pockets Blues
Killin' Floor (Howlin' Wolf - BMI)
300 Pounds O' Joy (Willie Dixon - BMI)
Start All Over Again
Please! Mr. Bill
Don't Go To Cryin'
What's Wrong With Me
Honky-Tonk (D. Robie - BMI)
South Side Of Fifty
Goin' To Louisiana (M, Morgansfield - BMI)
Everybody Gets The Blues
Rumble On Armingo Avenue
Help Me (Carreras, Farver, Ward - ASCAP)

" the rare situation where one finds a "real light under the national bushel." ... this fine first release from one of the Northeast's finest blues guitarist, vocalist, and most importantly, writer.
Bob Vorel, Blues Review Quarterly

---

They've backed up Otis Rush, Bo Diddley (3X), Pinetop Perkins(2X)
and they've gigged with B.B. King, Buddy Guy, James Cotton (4x), J.B. Hutto (3x), Junior Wells, Edith Wilson, Son Seals, L'il Brother Montgomery, Koko Taylor (2x), NRBQ (4x), Robin Williams, Luther "Snake" Johnson, Roomful O' Blues (3x), Roy Buchanan, Gary U. S. Bonds, Lucky Peterson, Mitch Ryder, James Montgomery, Leon Russell, New Orleans Radiators, Atlanta Rhythm Section, Archie Schepp, 10,000 Maniacs

---

I found the following quotes on the blues newslist (Newsgroups: bit.listserv.blues) from Ed himself In response to a question about how to work a setlist to please the audience..."To your own self be true. Play to your srengths and personal enjoyment. The songs that often get the biggest response for me, are slow or medium tmepos. I don't go for speed for speed sake! People often ask why I don't play more well known stuff (SRV, BB, Clapton, Hendrix, BLues Brothers, etc) my response is... "If I am gonna play in a joint like this, for chump change, well then I am going to play exactly what I want, the way I want it." That way... everynight, I have a chance of having some real fun doing what I want. Otherwise I become a sort of human jukebox that leads to a downward spiral for my sense of self.... Leonard.... you have a day job, play what you want for enjoyment... If they ask for something more from you, tell them yes OK and go back and play exactly what YOU want. Play great and screw 'em if they don't get it! Ed Vadas

---

Web Editors Notes:
Having been to maybe 400 of Ed's 5000 plus gigs, may give you a sense of how difficult it's been to cull the experience down to mere kilobytes of text.

---


Push on TagYerit's guitar for more goodies from TagYerit ....

Links:

Buddy and Hopkins - A comic strip for musicians and fans of music