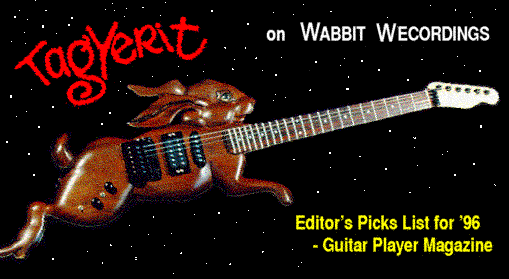 Thunderclap The RabbitCaster:
A Very Very Brief History
Back in the early 1990s, when a local farmer offered some walnut for sale, we hopped at the opportunity, until we realised that the tree was still standing. When we couldn't convince him to spare the tree, we agreed to buy some of the wood.
Then, when Flo told our friend and luthier William Cumpiano (Cumpiano Guitars), about her funtasy (sic) of building her own guitar, he responded, "Let's do it.". After weeks of building cardboard mockups of various ideas, Thunderclap was born. She is named after one of our rabbits who served as inspiration. The process involved William creating technical specs and layout, Flo working on the rabbit carvings and then a weekly visit to Bill's shop for various adjustments and finally assembly. It was only after all months and months of work that we strung her and plugged her in that the tones similar to a warm Stratocaster greeted us and we could relax and enjoy it. What a rush!
With money from sales of CDs going to environmental organizations, we'd like to think Thunderclap will help rebuild some of those forests.
If you happen on some walnut lumber, it is a wonderfully workable wood, but try to keep in mind using sustainably grown woods.
Photo by Stephen H. Schmidt
While there's only one Thunderclap, we did have a limited edition of lapel pins cast in pewter by Spoontiques some years back and as of May 2015, we still have some available.
Pewter Rabbit Guitar Pin - 3 1/8" long $15.00 (S&H included)


---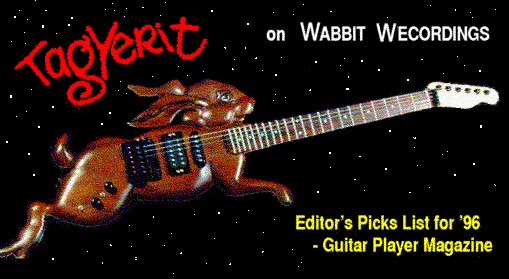 Click here to fully explore the tagyerit.com pages
---
TagYerit Tails
Subscribe to TagYerit Tails TagYerit Tails is the newsletter for TagYerit (The Website) and TagYerit (The Band). This newsletter is our way to tell you when something new or exciting is happening. In other words expect it no less than twice a year and no more than once a month. Click here to sign up now.
---
Whether you'd like to say hi; make a request or a suggestion; discuss the use of any of these images; swap links; we'd love to hear from you!


Just so you know: We never disseminate email information. We are ever mindful of the privacy needs of our friends.
---
All text and images ©1998 - 2020 R & F Newman TagYerit.com except where noted.
All rights reserved.