TagYerit has 4 CDs: Shimmer, Gazing Globe, Tubeman, & Heavy Construction
Click on the CD covers or scroll down the page to discover each.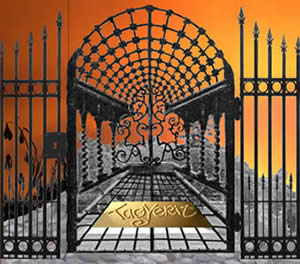 Gazing Globe (6 song CD)
TRACKLIST
Deranged Click for MP3 clip.
Gazing Globe Click for MP3 clip.
Charm School Click for MP3 clip.
Soul Tag Click for MP3 clip.
Tool Click for MP3 clip.
Aly's Song Click for MP3 clip.
Available from us through the Buy Now button ($10 incl. S&H) or at CDBaby
"Gazing Globe Naked": same recordings as instrumentals - without voice. Email us if you're interested.
As one fan put it - "WOW! is all I've got to say. It's hard for me to understand what's in your mind!!!???"
Miscellaneous Merchandise
Pewter Rabbit Guitar Pin - 3 1/8" long $15.00 (S&H included)


Flo carved TagYerit's signature rabbit shaped guitar, which she plays on all TagYerit recordings. We just love bunnies of course! TagYerit commissioned these pewterpins from Spoontiques of Canton MA. There are still a limited number left.
You can also find each of these songs with their lyrics and descriptions at our Songwitch pages.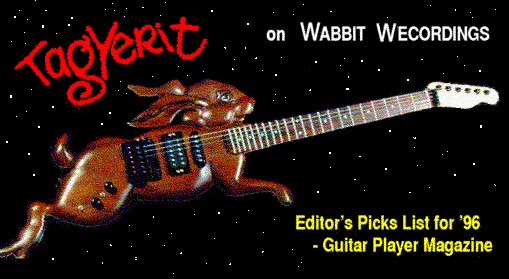 Click here to fully explore the tagyerit.com pages
---
TagYerit Tails
Subscribe to TagYerit Tails TagYerit Tails is the newsletter for TagYerit (The Website) and TagYerit (The Band). This newsletter is our way to tell you when something new or exciting is happening. In other words expect it no less than twice a year and no more than once a month. Click here to sign up now.
---
Whether you'd like to say hi; make a request or a suggestion; discuss the use of any of these images; swap links; we'd love to hear from you!


Just so you know: We never disseminate email information. We are ever mindful of the privacy needs of our friends.
---
All text and images ©1998 - 2020 R & F Newman TagYerit.com except where noted.
All rights reserved.