Listen and enjoy! And if this song fits your project, let us know. Available as instrumental also.
---
Chorus: (Refrain:)
"This little cowgirl is riding deranged"
---
Lyrics:
Deranged © 2006 Rich & Flo Newman (BMI)
This little cowgirl is riding deranged
Her heart it is broken - Her pardner's estranged
This little cowgirl - Some tough times been through
This little cowgirl is ~~~~~~ screwed
This little cowgirl would like to rest here
But her cowboy and cowgirl friends think she's turning too weird so
No longer can she hang out with that ol' bunkhouse gang
This little cowgirl will be riding ~~~~~~~~~~ deranged
Yip Yippee Ky-Yo she's lost that old spunk
This little cowgirl's last sunset has sunk
And maybe you won't notice where her lasso is tied
From a distance you can't tell that her brain is quite ~~~~~~~ fried
This little cowgirl is riding deranged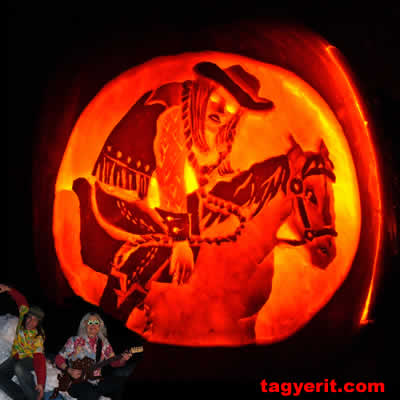 Deranged Deranged
She's feeling strange
Completely drained
Across the plains
Through driving rains
Deranged Deranged
Doo lang doo lang
Doo-run Doo-run
Duran Duran
Doo wah ditty ditty dum
Deranged Deranged
[background vocal(Descant)]
How do you do you Cowgirl
Won't you ride in my corral
How do you do you cowgirl
You could boost up my morale
The way you ride, ride and rope
And I see you play with them antelope
And we will ride ...
---
Genre: alt country, pop, cowboy doowop, alternative, ac (adult contemporary)

(note to a&r: Genre is strictly speaking a subset of performance, not lyric and melody. So if you are looking for material to cover, consider searching all genres ... then interpret it in your genre)
Mood: slow to mid tempo, with a melancholy undertone
About the Song:
description:
The story of a cowgirl who has gotten a bit twisted from lost love. It's not clear if she has a dark sense of humor, a goth cowgirl or if she's gone over the deep end (i.e. Delta Dawn). The Descant (counter lyric) was an old unfinished song that worked perfectly in opposition to the Deranged cowgirl theme. An original spin of Stephen Foster's "Home on The Range". Also inspired by seeing girls in cowboy hats in a New England college town.
Title: Deranged
Author(s):Richard & FloraLee Newman
Year:© 2006
Pro:BMI
About the Recording
Title: Deranged
Author(s):Richard & FloraLee Newman
Year:© 2006
Pro: BMI
Published: on TagYerit's CD "Gazing Globe"
Artist: TagYerit with Flo (guitars, vocals) Rich (bass) Jeff Thompson (drums)
Producer: Ed Vadas
Recorded: Greg Steele (engineer) at Derek Studios - Dalton, MA
Mastered: Northeastern Digital Southborough, MA

---
Ways to purchase:
These stores are just a few places you can buy TagYerit's "Deranged" digitally
To contact us please type in the email address shown in this image.

My website moved and I haven't figured out how to get the forms working yet.
---
Keywords: lasso lariat horse back riding ranch wrangler bunk house pathos - Could imagine Dixie Chicks doing this song
---
Click back to Songwitch for all available TagYerit songs
Click for links to find all the fabulous links at the TagYerit website