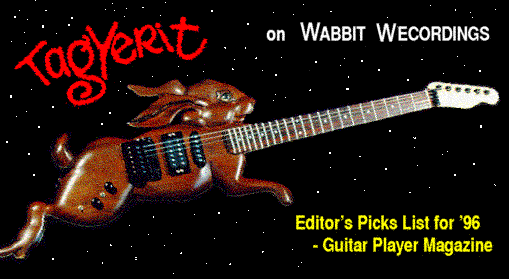 from the video division of Wabbit Wecordings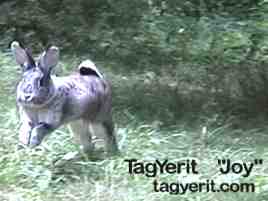 - Visit also the "Joy" music video page.
"Adam & Eve" is probably the first video to ever use eggbeater animation. As one viewer said. "It's not like any music video I've ever seen." "Adam & Eve" is the first video from TagYerit's CD "Heavy Construction". It's the story of a boy, a sock, a button and other lost loves.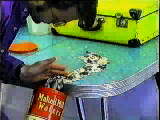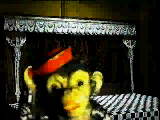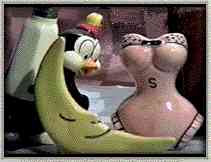 The production is an ersatz puppet show, using our secret eggbeater-animation technology. Running time on VHS with "out-takes" is 4:12. It is available for purchase for only $5. (We hope to bring it back online in the near future.

When "Adam & Eve" was released in 1997 it had been sent to the following programs. Most are now gone. In fact it seems harder to find as many shows today:
Rock Candy Music Video Show (Vacaville CA); Guttervision (N. Hollywood, CA); Culture Shock (Danbury CT); JBTV(Chicago IL); Buzzbox & Alternative Visions (Lafayette LA); ACTV (Amherst, MA) Blackbush (Boston MA); RAGE TV (Brockton, MA); BVT (Cambridge MA); Widget Bridge (N. Falmouth, MA); FUZ TV (Medway, MA); MPACT (Monson MA); Video Hotdish (Hastings MN); ZTVidNet (Reno, NV); Monkey Butt (NY, NY); New York Lifetime Too (NY NY); On Line TV (NY, NY); Flavours (West Nyack, NY); In Your Ear (Columbus, OH); Bohemia Afterdark (Portland, OR); Philly Rhythm & Rock (Philadelphia, PA); Chrome Dreams - The House of Yes PCTV (Pittsburgh, PA): CapZeyeZ (Austin, TX); Sarcastic Existence (Dallas, TX); Last Call Music Videos (Glen Allen, VA); WTVX "Hear & Now" (Bethany College, W. VA); Channel V (Sidney, Australia); RAGE / ABC Television (Sidney, Australia)
If you know of other music video programs on cable, broadcast or online, please email rich@tagyerit.com
©1995 - 2004 R. &F. Newman. All rights reserved