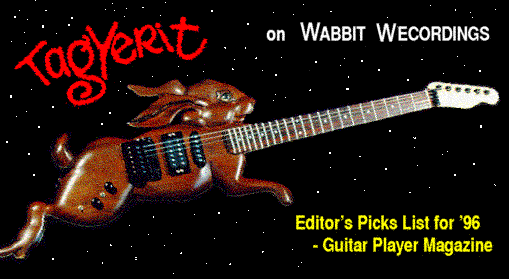 Welcome to
TagYerit's Pop Quiz
Answers at the bottom of page
We probably created this in 1996. It is no longer a working quiz, but feel free to read the questions on top and see how you did below. (just keeping it here for fun.)
TagYerit Compatibility Chart
giving an accurate measure of your "quirk rock quotient."
Timbuk3 is a city in Africa. T or F?
The B-52s are an MDU (Military Deployment Unit). T or F?
The Mothers of Invention are necessities. T or F?
Kate Bush and Peter Gabriel are archangels T or F?
Monty Python originally played Eddie Haskell in "Leave It To Beaver". T or F?
Firesign Theater was first broadcast on Tesla coils. T or F?
Firesign Theater was first recorded on Edison's Tinfoil Cylinder. T or F?
Yoko Ono was the fifth Beatle. T or F?
Jerry Harrison was in the Modern Lovers before the Talking Heads. (Trick Question) T or F?
They Might Be Giants was the nickname for a group of scientists working on The Manhattan Project. T or F?
Bonus essay question. "Birdhouse of Your Soul" is a song about: Tell us briefly anything you'd like about the song or yourself.

---

Okay - How did you do? The questions were geared so you'd hopefully think of TagYerit while you thought of the artists in question.

The Answers

Timbuk3 is a husband and wife band, most known for their song: "My Future's so Bright I Gotta Wear Shades." Their music is consistently quirky, and I'd recommend seeing them if they're in your neighborhood. Speaking of "neighborhood", Tombouctou (formerly spelled Timbuktu) is a town in Mali, west Africa., most known for the phrase; "From here to Timbuktu" (i.e. far away). I've never been there, but my guess is I'll be hearing from someone there soon. Hypothesis: Timbuktu + inflation = Timbuk3
What can I say about the B-52's that you don't know already. If you don't know, go directly to your record store and buy their first album,"The B-52s" from 1979. Contains their first and now classic hit "Rock Lobster".
The Mother's of Invention was a band founded by Frank Zappa. While not a necessity, their albums hold up as well today as they did when Flo & I were in college. A refreshing change of pace from the three minute songbook.
Kate Bush and Peter Gabriel prove that "quirky" can be serious and still be good.
Monty Python are more known for their television and movie antics. But who can forget the "Lumberjack Song" or their "Spam" song that created an internet verb.
See Next answer
Before there was Monty Python; before there was Rocky Horror; there was Firesign Theatre. Album length radio shows. Aural mayhem: slapstick of the pie-in-the-ear variety. The Adventures of Nick Danger; We're All Bozos on This Bus; Everything You Know is Wrong. How I wax nostalgic for the days when I'd take thirty minutes off to try to figure out what the hell they were saying. (#6 tesla coils...I'm not sure. #7 tinfoil... Thomas Edison made the very first recording history on a piece of tinfoil.)
Yoko, a Beatle? I never understood why Yoko was blamed, but no, of course not.
Before the Talking Heads, Jerry Harrison was an original member of Jonathon Richman's band The Modern Lovers. The only reason it was a trick question, is because, it's the only question I set up with a "true" answer. When I was in school, I always wondered if there was a hidden pattern to the true/false questions.
They Might Be Giants got their name from an old movie.Sorry, the title escapes me.

Bonus question "Birdhouse of Your Soul" is one of those perfectly crafted songs I wish I had written. The melody is strong. Long before I took the time to catch the words, I loved the song. And when I finally got it... "Blue Canary in the outlet by the light switch...who watches over you" And a picture of his cyclops ancester (the light house). It gives me shivers.
0 out of 5: Sorry We just sold out of Barry Manilow.
1 out of 5: You just might like TagYerit.
2 out of 5: You will definitely like TagYerit.
3 out of 5: What are you waiting for order now!
4 out of 5: A marriage made in Heaven.
5 out of 5: A marriage made in Hell
6 and up: What do you want? A Medal?